In each of the last four years, General Motors has reported record U.S. sales figures for its Chevrolet Equinox nameplate. In each of the last five years, Equinox volume has increased in the United States.
Canadian Equinox volume has fallen slightly in each of the last two years, but even 2013's total was higher than in any of the Equinox's seven years leading up to the 2011 peak. Meanwhile, the GMC Terrain, a thoroughly re-bodied twin of the Equinox, has enjoyed steadily rising U.S. sales volume ever since it went on sale in 2009 as an indirect replacement for the first-generation Equinox's Pontiac twin, the Torrent.
The Terrain isn't America's top-selling utility vehicle. Neither is the Equinox. Yet combined, the Equinox/Terrain juggernaut outsells all other SUVs and crossovers in the United States.
THE GOOD
Huge rear seat
Big SUV feel
Ride quality
6-speed allows 2.4L to be sufficient
Design is aging well
THE BAD

Firm rear bench

Restricted cargo area
Big SUV handling
V6 option is just too thirsty
There are a lot of newer rivals
GoodCarBadCar tested the GMC Terrain Denali last summer, and there were some significant issues. The structure lacked solidity, the whole vehicle felt cumbersome, the exceedingly powerful engine was exceedingly thirsty, and the value quotient didn't come close to working in the Denali's favour.
The as-tested price of this week's test vehicle, an LT-trim, all-wheel-drive, four-cylinder Equinox, is $10,000 below that Terrain's MSRP. This 182-horsepower Equinox weighs nearly three hundred fewer pounds than last summer's 301-horsepower Terrain Denali. The Equinox is also expected to consume 20% less fuel during highway driving.
Even as it ages, even as fresh competition arrives, more North American consumers purchase or lease a Chevrolet Equinox every year. To understand why, we loaded up this 2014 Chevrolet Equinox LT AWD with our three-member family and our newly rescued dog and headed for Prince Edward Island in the dead of night and in the dead of winter.
Our findings? Reminiscent of the Chevrolet Cruze which GoodCarBadCar has twice reviewed – in gas and in diesel form – the Equinox has a strong air of maturity about it. Ride quality is superb. The cabin isn't infiltrated by the wind and road noise you'll encounter in many small crossovers. Comfort is tops among priorities.
Undoubtedly, this 2.4L, four-cylinder Equinox isn't spectacularly motivated, but the 6-speed automatic transmission makes the most of the engine's output to provide the driver with the sensation of sufficient power. In Eco mode, you'll either accept the electronic constraints or push through the drivetrain's resistance, thereby defeating the purpose of the Eco mode. Yes, I sometimes found myself wishing for the terrific V6 option, but not often, and I didn't miss its accompanying fuel bill.
2014 CHEVROLET EQUINOX LT AWD
Base Price * (CDN): $30,175
As-Tested Price * (CDN): $37,155
Engine: 2.4L DOHC 16-valve I-4
Transmission: 6-speed automatic
Horsepower: 182 @ 6700 rpm
Torque: 172 lb-ft @ 4900 rpm
Curb Weight: 3926 pounds
Drive Type: all-wheel-drive
Length: 187.8 inches
Width: 72.5 inches
Height: 66.3 inches
Wheelbase: 112.5 inches
Passenger Volume: 2823 litres
Cargo Volume: 872 litres
Max. Cargo Volume: 1804 litres
Centre Console: 35 tennis balls
Glove Compartment: 36 tennis balls
EPA City: 20 mpg = 11.8 L/100km
EPA Highway: 29 mpg = 8.1 L/100km
Observed: 21.4 mpg
Observed: 11 L/100km
* includes destination/delivery.
Base price refers to Equinox AWD.
Basic Equinox's true entry-level
price is $27,975.
This all-wheel-drive four-cylinder Equinox's odometer displayed fewer than 9000 kilometres and consumed fuel at a rate of 11 litres per 100 kilometres, equal to 21 mpg, just enough to beat its EPA city rating. Though a bit disappointing given the number of kilometres we drove on the highway, it's not that surprising when the extreme cold and heavy load is taken into account.
Like the Cruze, the Equinox applies the aura of a bigger machine in its smaller package. That's both good and bad. For consumers who are downsizing from, say, a Chevrolet Traverse, the Equinox naturally results in a decrease in size but not dynamic competence, à la the downsizing from an Impala to the Cruze. By dynamic competence we aren't referring to track-worthiness, but to real-world, on-road expertise: the ability to ignore a road's imperfections, the skills with which it makes a commute tolerable, its lack of sporting ambition.
The Equinox, you see, is not a Mazda CX-5. There's enough on-centre steering mush present here to give a Lotus engineer a stroke.
Brake feel is positive, but a firm press of the left pedal still caused me to feel like I was bringing too many thousands of pounds to a halt.
That loping suspension causes the Equinox to fall over on the outside wheel mid-corner, and sudden back-to-back-to-back changes of directions aren't welcomed.
None of that is problematic during a drive to The Island with a three-month-old boy and a dog who's unaccustomed to road trips. We simply enjoyed the Equinox's nature as a highway cruiser. The jiggliness you'll often encounter in small crossovers disappears in this tweener-sized Equinox: its wheelbase is seven inches longer than the Toyota RAV4's wheelbase, six inches longer than the Mazda CX-5's, nearly nine inches longer than the Hyundai Tucson's. As a result, smoothness is the order of the day. And it's the overarching Equinox character trait.
All Photo Credits: Timothy Cain ©www.GoodCarBadCar.net
Click Any Image For A Larger View – (iPhone 4 Through Tadaa's Laika Filter)
GM's infotainment unit is becoming familiar to a driver who's spent time in multiple GM products over the last twelve months: it's neither modern nor is it outdated. The Equinox's tall centre stack isn't an easy reach. Front seat comfort is terrific. However, the rear bench is too firm. There's also a sense of old GM cheapness to small pieces like the window switches and rear wiper button, but these negative aspects don't play as strongly as the Equinox interior's actual limiting factor.
For a vehicle that stretches well past fifteen feet long – eight inches longer than the Toyota RAV4 – why is the Equinox's cargo area 20% smaller than the RAV4's and its maximum cargo capacity 13% smaller?
In large part, the loss of luggage-hauling ability is down to the sliding rear seat's largesse: a mother, an infant car seat, and a two-year-old German Shepherd/Boxer mix shared the back without argument. But the massive wheel wells eat into the cargo area with fervour.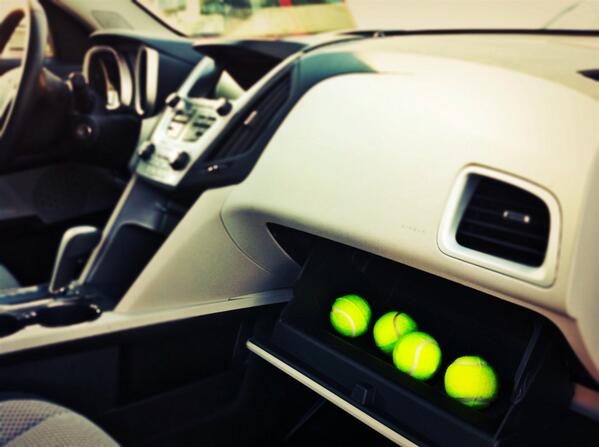 GCBC Has Instituted ISTBTP, AKA Interior Storage Tennis Ball Test Protocol.
You Can See More On The ISTBTP In Last Week's Accord Hybrid Review, In This Tweet,
And At Jalopnik's Opposite Lock. The Equinox's ISTBTP Results Are In The Spec Chart Above.
Therefore, squeezing in our stuff wasn't as easy as it should've been in a vehicle this size. Again, this isn't unlike the Cruze – with its big car feel in a small car package – and the results which are slightly smaller than anticipated.
Exterior design that still seems current, space for a family, and reasonable fuel efficiency combine to form a winning ticket. The ability to tolerate a diminished cargo area is a prerequisite for Equinox ownership. Yet those who can will soon see that few Equinox rivals, even the ones which can attack Laguna Seca, carry themselves with this kind of composure in the kinds of circumstances we typically encounter on a daily basis.
RECOMMENDED READING
Historical Monthly & Yearly Chevrolet Equinox Sales Figures
Historical Monthly & Yearly GMC Terrain Sales Figures
2013 GMC Terrain Denali Driven Review
2013 Toyota RAV4 LE Driven Review
2014 Hyundai Tucson GLS AWD Driven Review
2013 Dodge Journey R/T Rallye Driven Review