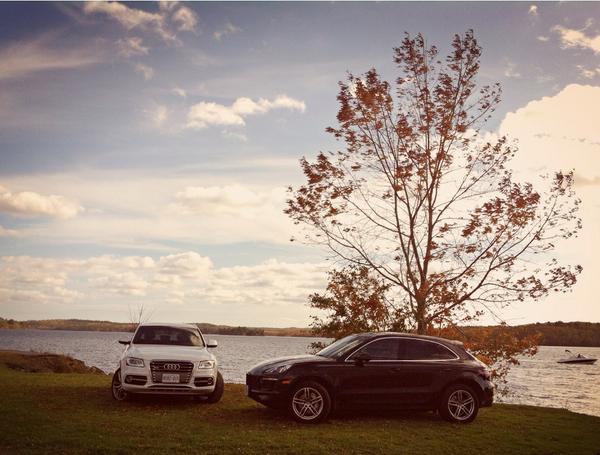 Mercedes-Benz Canada sold the company's first 184 GLA-Class crossovers in September 2014, a complement to the 247 BMW X1s sold and the 328 Audi Q3s.
• Canada Vehicle Sales Rankings By Model – September 2014 YTD
• Canada SUV/Crossover Sales Rankings By Model – September 2014 YTD
Click Chart To Expand
Up a notch in size, Mercedes-Benz sold 649 GLKs, BMW sold 434 X3s and 100 X4s, and Audi sold 791 copies of the best-selling premium brand utility vehicle in Canada, the Q5.
GCBC's review of the SQ5 will be published soon, as the car's week-long visit came to an end when Porsche Canada's Macan S was delivered to GCBC Towers for the third week of October.
September 2014 sales of these smallest luxury brand crossovers clearly increased dramatically as the X1 improved and was joined by two new nameplates. The larger (but still relatively small) cast of characters led by the Q5 posted 36% gains, or 20% if the newest players (Lincoln MKC and Porsche Macan) are excluded.
You can click any model name in the tables below to find historical monthly and yearly Canadian auto sales data. You can also select a make and model at GCBC's Sales Stats page. These tables are now sortable, so you can rank luxury SUVs and crossovers any which way you like. Suggestions on how GCBC should break down segments can be passed on through the Contact page.
Click Column Headers To Sort • September 2015 • October 2014 • August 2014 • September 2013
Compact
Luxury SUV

September
2014

September
2013

%
Change

2014
YTD

2013
YTD

%
Change

328

—
—
610
—
—

247

171
44.1%
2137
2198
-2.8%

184

—
—
184
—
—

—

—

—
—
—
—
—

Total

759

171
344%
2931
2198
33.3%
Small
Luxury SUV

September
2014

September
2013

%
Change

2014
YTD

2013
YTD

%
Change

485

483
0.4%
4864
4536
7.2%

791

665
18.9%
5971
5492
8.7%

434

385
12.7%
3956
4665
-15.2%

100

—
—
210
—
—

172

97
77.3%
1418
1105
28.3%

71

31
129%
468
373
25.5%

146

188
-22.3%
1272
1316
-3.3%

277

—
—
937
—
—

649

549
18.2%
4053
4616
-12.2%

136

—
—
798
—
—

184

134
37.3%
1184
1330
-11.0%

—

—

—
—
—
—
—

Total

3445

2532
36.1%
25,131
23,433
7.2%
Midsize Luxury SUV

September
2014

September
2013

%
Change

2014
YTD

2013
YTD

%
Change

523

468
11.8%
4496
4521
-0.6%

1

1
0.0%
6
35
-82.9%

141

195

461

478
-3.6%
4349
2565
69.6%

311

128
143%
692
643
7.6%

337

420
-19.8%
3274
2730
19.9%

343

269
27.5%
2598
2433
6.8%

45

53
-15.1%
348
503
-30.8%

31

36
-13.9%
301
323
-6.8%

141

218
-35.3%
1912
1211
57.9%

48

19
153%
413
215
92.1%

672

760
-11.6%
5785
5830
-0.8%

23

40
-42.5%
221
296
-25.3%

205

355
-42.3%
2115
2465
-14.2%

436

522
-16.5%
4206
3402
23.6%

117

184
-36.4%
1545
1478
4.5%

240

154
55.8%
1674
1550
8.0%

55

61
-9.8%
407
482
-15.6%

72

30
140%
340
432
-21.3%

—

—

—
—
—
—
—

Total

4202

4391
-4.5%
34,682
31,114
11.5%
Source: Automakers & ANDC
* indicates a vehicle which is also shown in another GCBC segment breakdown
GCBC isn't here to break down segments, an impossible task for any group, but to display sales data for the sake of comparison. The more ways sales data can be displayed, the better. This explains you'll see the XC70 listed with luxury cars as well as with SUVs and crossovers and the Touareg with luxury SUVs and mainstream SUVs… because readers have wanted it both ways. You can always find the sales results for EVERY vehicle and form your own competitive sets by using the All Vehicle Rankings posts.

RECOMMENDED READING
Small & Midsize Luxury SUV Sales In Canada – September 2015 YTD
Small & Midsize Luxury SUV Sales In Canada – October 2014 YTD
Small & Midsize Luxury SUV Sales In Canada – August 2014 YTD
Small & Midsize Luxury SUV Sales In Canada – September 2013 YTD
Top 20 Best-Selling SUVs In Canada – September 2014
Canada Auto Sales Brand Rankings – September 2014 YTD
Large Luxury SUV Sales In Canada – September 2014 YTD