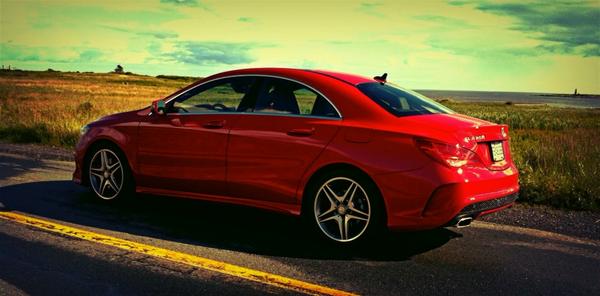 Canadian sales of BMW's 3-Series continued to decline in July 2014, the eighth consecutive such month in which 3-Series volume has fallen on a year-over-year basis.
• Canada Auto Sales Brand Rankings – July 2014 YTD
• All Autos Ranked By July 2014 YTD Canadian Sales
• All Cars Ranked By July 2014 YTD Canadian Sales
Click Chart To Expand
Yet recently the 3er's chief rivals have likewise fallen in 2014, the Audi A4 only slightly; the Mercedes-Benz C-Class more sharply as the brand prepares to introduce a new C.
But there are new alternatives on the rise. Cadillac ATS sales rose 62% to 349 units in July. Lexus sold 339 copies of the IS.
Smaller premium players are also having an impact, as Mercedes-Benz's CLA topped 300 units for the fourth consecutive month in July, and Audi Canada sold more than 200 A3s for the third consecutive month.
60% of BMW's July volume stemmed from the 2-Series, 3-Series, X1, and X3. Mercedes-Benz generated 51% its non-Sprinter July sales with its four entry-level models: B, C, CLA, and GLK. 72% of Audi's sales originated from the A3, A4, and Q5.
You can click any model name in the tables below to find historical monthly and yearly Canadian auto sales data. You can also select a make and model at GCBC's Sales Stats page. These tables are now sortable, so you can rank luxury cars any which way you like. Suggestions on how GCBC should break down segments can be passed on through the Contact page.
Click Column Headers To Sort • July 2015 • August 2014 • June 2014 • July 2013
Small/Entry
Luxury Car

July
2014

July
2013

%
Change

2014
YTD

2013
YTD

% Change

286

316
-9.5%
1735
2216
-21.7%

—

29
-100%
205
457
-55.1%

271

15
1707%
946
337
181%

476

456
4.4%
3498
3506
-0.2%

174

196
-11.2%
1397
1496
-6.6%

—

34
-100%
2
525
-99.6%

91

—
—
377
—
—

956

1391
-31.3%
5349
7372
-27.4%

383

—
—
1751
—
—

34

—
—
84
—
—

349

216
61.6%
2108
1643
28.3%

26

42
-38.1%
265
363
-27.0%

247

157
57.3%
1973
1060
86.1%

97

87
11.5%
642
593
8.3%

339

315
7.6%
2340
953
146%

228

273
-16.5%
1627
1876
-13.3%

384

942
-59.2%
3792
5552
-31.7%

333

—
—
2099
—
—

—

6
-100%
—
286
-100%

104

84
23.8%
1285
766
67.8%

—

—

—
—
—
—
—

Total

4778

4559
4.8%
31,475
29,001
8.5%
Midsize Luxury Car

July
2014

July
2013

%
Change

2014
YTD

2013
YTD

%
Change

9

35
-74.3%
182
82
122%

94

227
-58.6%
1043
1227
-15.0%

87

92
-5.4%
654
592
10.5%

63

62
1.6%
598
403
48.4%

178

185
-3.8%
1224
1295
-5.5%

80

83
-3.6%
640
519
23.3%

76

38
100%
426
453
-6.0%

5

7
-28.6%
41
45
-8.9%

180

66
173%
858
640
34.1%

6

19
-68.4%
49
145
-66.2%

32

29
10.3%
340
346
-1.7%

5

—
—
15
—
—

226

262
-13.7%
1497
1872
-20.0%

41

61
-32.8%
299
399
-25.1%

14

13
7.7%
152
168
-9.5%

92

129
-28.7%
967
825
17.2%

342

281
21.7%
2174
1744
24.7%

—

7
-100%
—
109
-100%

3

2
50.0%
47
24
95.8%

34

64
-46.9
317
358
-11.5%

—

—

—
—
—
—
—

Total

1567

1662
-5.7%
11,523
11,246
2.5%
Source: Automakers & ANDC
GCBC isn't here to break down segments, an impossible task for any group, but to display sales data for the sake of comparison. The more ways sales data can be displayed, the better. This explains why you'll see the XC70 listed with luxury SUVs and the Acura ILX with mainstream cars… because readers have wanted it both ways. You can always find the sales results for EVERY vehicle and form your own competitive sets by using the All Vehicle Rankings posts.
^ Acura combines sales figures of the outgoing RL with the new RLX. Mercedes-Benz's Canadian sales figures combine the E-Class with the CLS-Class. Audi Canada's A4 sales figures include sales of the Allroad. We await, as per the norm, divided data for the S60 and V60.
^ Total Infiniti G/Q50/Q60 sales:
‡ The XTS, K900, and Equus aren't listed here because they're not massive – they are – but because their price points position them much more closely to, for example, the Mercedes-Benz E-Class than the S-Class. Genesis sales figures here do not include sales of the Genesis Coupe (as Hyundai's U.S. Genesis sales figures do), making the comparison with premium brand vehicles much more valid.

RECOMMENDED READING
Small & Midsize Luxury Car Sales In Canada – July 2015 YTD
Small & Midsize Luxury Car Sales In Canada – August 2014 YTD
Small & Midsize Luxury Car Sales In Canada – June 2014 YTD
Small & Midsize Luxury Car Sales In Canada – July 2013 YTD
Top 20 Best-Selling Cars In America – July 2014
Canada Auto Sales Brand Rankings – July 2014 YTD
Large Luxury Car Sales In Canada – July 2014 YTD